We're already one month into 2022. It went by so fast! Here is a quick look at some of the highlights of the Blogs, Use Cases, & Videos from the past month.
RE-BreakingNEWS:
As you may already be aware, our development teams are always working diligently to make your lives a little less complicated.
Now you can build your forms on Auto-Pilot with an easy-to-use, no-code form building tool that allows you to easily build secure, integrated workflows. IntelyForms saves time and money while also increasing engagement – across multiple industries.
As we enter the new year, our team will continue working hard to develop products that cater to the ever-changing standards in digital health. We are always looking for ways to improve your experience and enhance the quality of patient care.
Healthcare interoperability is an important goal that aims to make health information exchange possible in the healthcare industry. However, healthcare providers can only achieve this goal by developing the right technologies. This blog will discuss the critical role of EHR integration in attaining healthcare interoperability.
Electronic Health Record (EHR) and Electronic Medical Record (EMR) are two common medical terminologies these days. However, there is confusion around their definitions and difference.
It's essential to understand what EMR integration means to know how your organization can provide an integrated work environment that includes secure health data, messaging, and contact information stored within one network of electronic records.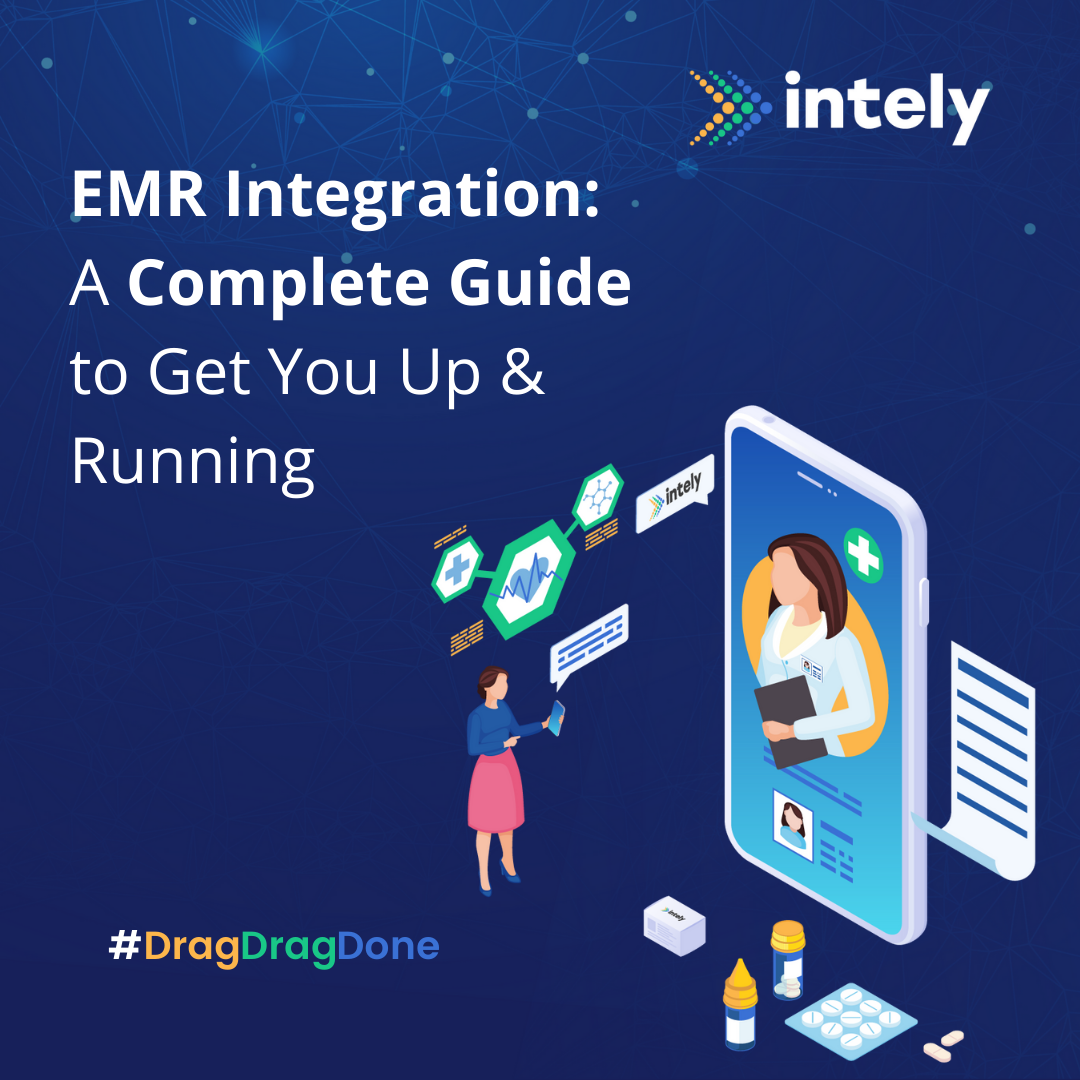 #
Drag
Drop
Done
Call them use cases, user scenarios, or user stories – Here are some ways of how intely can help automate & improve your workflows.
Give your registrars the efficiencies they need by allowing patients to pre-fill out their registration information. Allow patients to fill out the registration forms and have that information passed through to your EMR System. Using intelyForms integration with intelyConnect, capture patient data using HIPAA compliant forms and pass that into your database using APIs.
Every day there's more of a need for Hospitals and Clinics to have a communication channel to the communities they serve. Boost interactions and engagement with your patient population using intelyForms. Let our No Code Form Builder simplify and automate how you maintain your patient relationships.
Patient care and satisfaction start with the employees who care for them, meaning it's imperative to know how your staff is dealing with situations and events going on in your health system. Create employee survey forms to give your employees an open, anonymous feedback channel to you to know exactly how they're feeling by using intelyForms.
Most patients see multiple healthcare providers, many of which operate on disparate technology systems. This leads to one patient having their data stored in multiple platforms across multiple health systems. Put the data back into your patient's hands easily using IntelyConnect's standard FHIR API endpoints.
Get one step closer to Automating Your Workflows,
See intely in action!